Desserts are the perfect way to finish your meal on a delicious note.
Cookies, pastries, chocolates, candies — whatever confectionery you most desire, our tour guides know where the sweetest treats are made. We've created our own list of must-try desserts guaranteed to satiate your sweet tooth.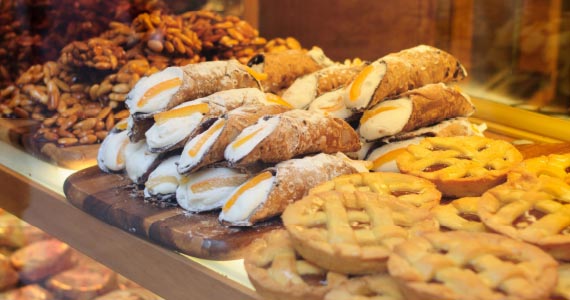 •

ITALY'S SIGNATURE DESSERT

•
THE
Cannoli
Cannoli cap the list as one of Italy's most famous treats. The crunchy, creamy dessert is made from simple ingredients that burst with flavour. Comprised of a crispy, golden shell, cannoli are rolled into a cone-like shape and fried. The signature filling is made with ricotta cheese, and sometimes marscapone cheese. The light cheesy centre is sweetened with sugar and honey and flavoured with chocolate, pistachios, or citrus. Pick one (or a few) up at a neighbourhood bakery while you travel through Italy.
View Italy Tours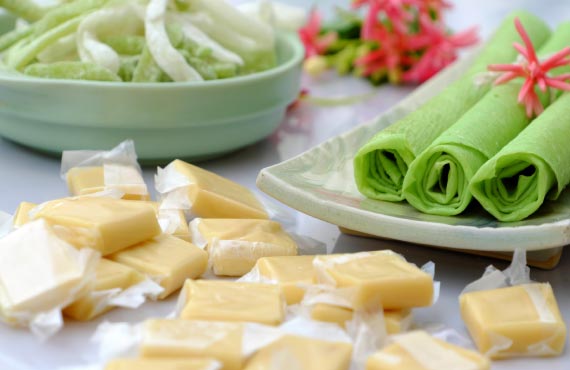 TROPICAL CANDIES
•

IN VIETNAM

•

Crazy for coconuts? Coconut candy, called Keo dua by the Vietnamese, is one of the most popular and delicious candies in Vietnam. Locals in the Mekong Delta region produce the candy that's said to taste like a mix of fudge and toffee. If you need a jolt of sweetness to break up the taste of more savoury meals, coconut candy will do the trick.

View Vietnam Tours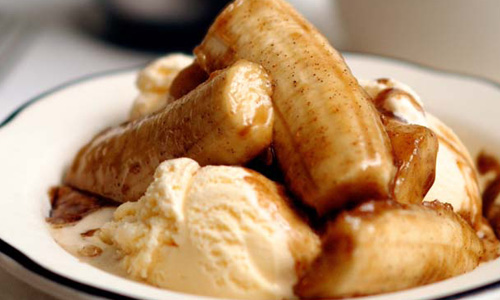 ONE OF NOLA'S SWEETEST EXPORTS
Bananas Foster
Here's a little fun fruit trivia: did you know that in the 1950s, New Orleans was the major port of entry for bananas coming into the U.S.? Try your hand at making this classic dessert dish first invented in the Big Easy.
Bananas Foster
Recipe from the Court of Two Sisters Restaurant
in New Orleans, Louisiana (Serves 6)

Ingredients:
6 whole bananas, quartered
¼ lb. of butter
3 cups brown sugar
¼ tsp. cinnamon
2 oz. banana liqueur
2 oz. brandy
6 dishes vanilla ice cream
Steps:
Melt butter, brown sugar, and cinammon in a saucepan.
Add bananas and banana liqueur, letting cook until thoroughly heated.
Flame with brandy.
Serve over ice cream.
View Spotlight on New Orleans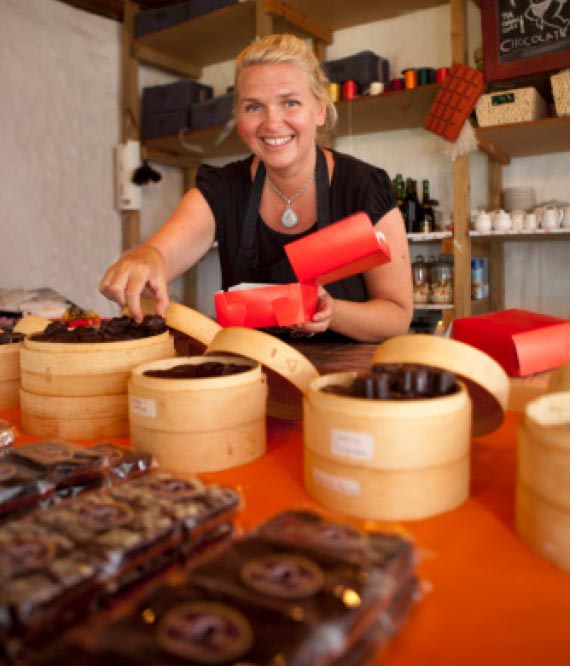 CHOOSE CHOCOLATE
in SWITZERLAND
There is a whole process that goes into making Switzerland's signature, melt-in-your-mouth milk chocolate. Here is a behind-the-scenes look at how that chocolate bar goes from a humble bean to a decadent delight.
Cocoa trees produce pods (fruit), which contain the beloved cocoa beans. These beans are harvested, shipped and processed for their quality and region.
The beans are then cleaned and the shell is removed to reveal the nibs, or core pieces of the chocolate.
The nibs are sterilized, roasted, and crushed to create a liquid cocoa mass that is stored according to the unique quality of the bean.
The liquid cocoa is then mixed with milk powder, cocoa butter, sugar and vanilla.
This mixture is continually pressed through rollers, pulverizing the mix.
The mixture spends hours being agitated and aerated using a process called conching until it takes on a soft, smooth texture.
View Switzerland Tours
Check out our blog to learn where you'll find some of the world's best chocolate.
EXPERIENCE PORTUGAL'S

Signature Treat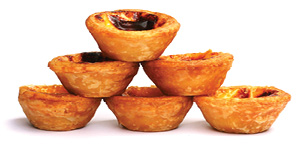 Around every corner of Lisbon, you'll likely come in contact with bakeries that sell the prolific Pastel de Nata, or Portuguese egg tart. While these signature custard sweets are sold throughout the country, the divine treats were first baked by the nuns and monks who lived at Lisbon's Jeronimos Monastery. The men and women of the cloth used egg whites to starch their garments, and the remaining egg yolks were used to create the desserts. Once the monastery closed, the recipe was sold to Pastéis de Belém in 1837.
While in Lisbon, experience the hustle and bustle of one of Portugal's oldest bakeries, Pastéis de Belém, and try this heavenly dessert yourself on Spain's Classics & Portugal.
View Portugal Tours
Churros
•

A SPANISH DELIGHT

•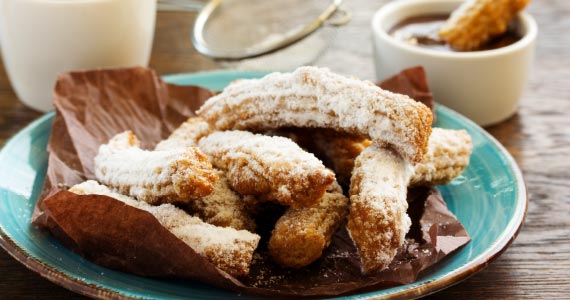 Churros are one of Spain's most beloved sweet treats. These ridged tubes of fried dough are the equivalent of Spanish doughnuts, found at cafes and from street vendors. They are warm, dusted with sugar, and sometimes drizzled with honey. For a truly indulgent experience, order them with a cup of hot chocolate dipping sauce.
Indulge in a churro while on a tour of Spain.
View Spain Tours